Fishing has remained good since the last report, with some days still being almost unbelievable .
Hatches have been a bit spotty, esp. towards the end of the week, but by moving around, they still can be found. 10′-13′ down, in the deepest part of the lake, was the magic depth, but pretty sure that has changed after yesterdays blow.
More bloodworms showing in the throat samples, indication more 'Bombers' to hatch. Weekend reports, showed the morning fish slow, but really picked up in the afternoon and evenings. A big wind on Sunday, kept most off Tunkwa,(or moved over to Leighton, it fished good!).
The usual Bomber sized chironomids were producing, ASB with wine or maroon wrap, was a good choice. Chameleon, or any red green patterns, catching trout as well.
Some trollers reported getting into fish, esp later in the day as the trout moved up, wet flies, like The Pumpkinhead or Patrol Car, were best bets, sounded like limited action on the usual hardware presentations. Worms put fish in the boats for guests as well.
Matt and Noah had a great day fishing with Dad on Saturday, Bomber chironomids got them lots of hook ups!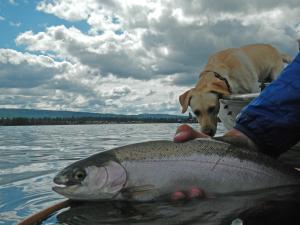 Sadie is supervising Ken W. releasing another fine Tunkwa rainbow.
.