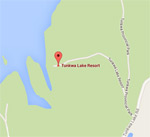 Located in the sunny southern interior Thompson Nicola region of British Columbia, a short drive from Kamloops and Logan Lake, and only a 3½ hour drive from Vancouver, BC, Tunkwa Lake Resort is both a fishing resort and an affordable destination for British Columbia fishing lodge vacations, known for its friendly service.
Fishing and Family Vacations
We offer clean, waterfront housekeeping cabins, tenting campsites, and RV sites. Our housekeeping cabins are rustic but modernized cedar-sided waterfront cottages. Cabins will sleep from 2 to 7 people and have electricity,  fridges, and airtight wood stoves. There are no washrooms in the cabins, but we have modern central shower houses, with flush toilets and free showers (on-demand hot water). Each cabin has its own picnic table with fire pits located along the lakeshore.
All tenting campsites and RV sites have fire pits and log picnic tables. The area where our campsites are located is mostly grass mixed with flat gravel pads. There is plenty of room for even the biggest RV's and groups. All tenting campsites and RV sites are close to the lake with 10 sites on the lakeshore.
Outdoor Activities
Boat rentals are available as well as lots of advice on how to catch those big Rainbow Trout. For the non-fishing guests, there are miles of hiking and biking trails, birding/wildlife viewing opportunities and a playground for the children. You'll find Tunkwa Lake easily accessible by car and is centrally located. We're not far from the community of Logan Lake and an easy picturesque drive to the City of Kamloops. We enjoy repeat business from serious and non-serious anglers, families, church groups, family reunions, couples both young and old, and small groups. Our guests come to enjoy a quiet relaxed atmosphere, therefore, we do not permit dirt bikes or ATV's(summer season), music or noisy groups in camp.
Cellular service is very spotty in this area. We do have satellite based wi-fi available throughout the resort for a nominal fee.