BOMBER TIME!!!!! and we're not talking water bomber's either!
The 'bomber' sized chironomids have started to hatch pretty strong right now, with a couple of Tunkwa old timers, commenting they haven't seen hatches that heavy in a long time. The lake surface is covered with giant chironie shucks.
We had a lot of wind and cool weather on Friday and Saturday, making conditions challenging, but for those who braved it, it was worth the effort. Sunday saw steady rain, with falling temps, until the system moved through in the evening, fishing was good!
Bugs are hatching everywhere, but by paying attention to your graph(fish finder), look for the larger schools of trout first, is key….or just look for the boats set up on them. Sometimes a move away from the others boats can pay off large, enabling you to have a school of tout all to your yourself.
Distance fished off the bottom varies, and at times it seems, pattern isn't that critical. Chironomids tied in size 8 or 10, on 3X hooks are best. Greens, like the chameleon, Black/red rib, Various combinations of ASB(anti-static bag) have been consistent as well.
Mayflies have been hatching pretty good in the eves, and we are seeing lots of surface activity as trout are taking the nymphs as they emerge. Fishing a half back in the surface film, or a tom Thumb on the top with get you into the trout as well.
Trolling has been a bit spotty, but still producing some trout. The usual Kwikfish/Hot-Shot patterns will work. Wedding bands tipped with a worm, are another good bet.
We are all predicting the fishing is going to get even better over the next two weeks, it's GO TIME!

"Little" Dick with proof, his flies can slay them, one of several dozen he landed the other day.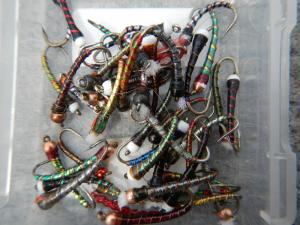 Woodies recycled flies, after a couple days on the Bomber hatch, gives you an idea of the various patterns producing. Sometimes switching up really pays off…..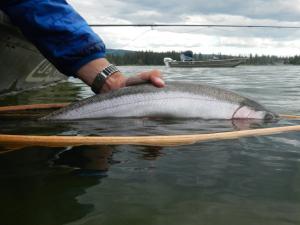 ……with Tunkwa tout like these! Good job Ken!.