It's 'bomber' season up here at Tunkwa, and not water bombers either!
The first part of the week saw some good bomber hatches start up, and fishing was fantatsic if you were able to set up on the spots where the chironomids were hatching…….
Here is a report from one of our guests last week that kinda sums it up well:
My name is brandyn, I came out to fish tunkwa for the first time yesterday.
I had chatted with a couple fella's at the office prior to going out on the
water and they had given me a few tips, muchly appreciated and also asked me
to give a report when I got back. I was in a hurry to make it home as I
stayed on the lake a little later then anticipated and wasnt able to report
back so thought I'd send an email today now that I have some time. The
fishing was fantastic. As they said the lake was fishing quite small,
however if you seen chronies on the water there were probably trout
underneath feeding on them! Majority of my fish were taken in 13ft of water
and all on chronomids and bloodworms i started the day with with a bloodworm
pattern and after catching my first fish and pumping it i noticed it was
full of green bloodworms and a couple green red butt chronies so I switched
over to john kents green bloodworm and managed a few more fish, all had
bloodworms in them but as the day went on I started to see a few more
chironomids inside the fish and thus switched over around 11am. Started with
a size 12 red rib roche lake special and managed a few fish on it so i tried
a green red butt acetate floss pattern that seemed to work alittle better.
After pumping another fish i noticed the chironomids were much bigger and
after a close look on the water i had seen the light!!! BOBMERS!!! I put on
a guns and roses pattern in a 12 3xl size and was consistantly into fish for
the next couple hours! the two biggest fish of the day 21inches and 23inches
were both caught on the guns and roses pattern with my average fish in the
14-18 inch range. All in all it was a great day on the water espcially for
my first time there. Having the guys at the shop to help disect a lake makes
a big difference so I thank you fella's again very much for your help and
have already recommended the place to friends and will continue to do so!
Thanks again and I will see you next weekend!!!! I hear theres some big ones
in there amongst the many so Ill be back to see what I can find!! p.s have a
few pics and a short video of the biggest fish of the day if youd like them
let me know!
Cheers and tight lines!!
Brandyn Dixon
Great report Brandyn, ands we were glad to have helped you out!
Later in the week, the weather turned much more unsettled, with lots of thunderstorms passing through the area. The hatches really slowed down, even stopping at times, making fishing tough for all. Some anglers who found small hatches, still were into fish. Other switched up to leach patterns, mayfly patterns, or scuds and worked for there fish, and still hoooked up.
Worms under a float has been a mainstay, and will always produce when everything else isn't.
We had some guests do well trolling Frog coloured HotShots, with a bit of weight to pull them down a bit deeper.
There was a bit of a hatch last night, with a couple reports of some good fishing, using PumpkinHeads, or larger Black-Sally chironomids.
Weather forecast is looking really good, with stable weather after todays system pushes through, and we should see the bugs back a'hatching and fishing pick right back up.
We have the FlyBC gang in here this weekend for a first ever "Summer Fish In", and we're looking forward to seeing the crew arrive.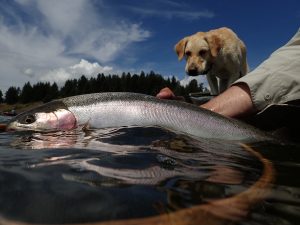 Woodie and Sadie, with one of many trout they got into last week.


Bomber time see's the bigger fish come out to feed. These couple where from last Wed afternoon, falling victim to a bomber sized Cranberry CopperTop bloodworm, fished 6″ off the bottom in 16′ of water, close to the resort.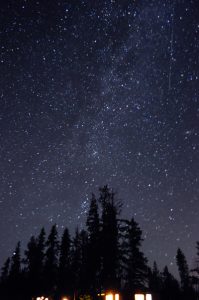 Clear nights, make the stars shine bright! Photo courtesy of Howard Santos.