Fishing has remained good to excellent on Tunkwa since the last report! Some more rain in the area is keeping lake temps down, and oxygen levels good. Night time temps have been dropping to single digits as well, again keeping the lake in great shape, and the trout feeding aggressively. Chironomids have still been hatching, with a mix of sizes and colours showing up in throat samples.
Fishing  a Chironomids has been the ticket for steady action, at times size nor colours makes a difference. Lots of better sized trout are being hooked, and landed. One of our regular guests manage to boat an 8lb rainbow this past weekend. Guest have been fishing Chironomids on spinning rods and doing as well as the folks fishing them on the fly rods. A real mix of sizes, and colours have been producing, with no one real stand out pattern, just get it down there where there are trout!Trolling has been a bit slower, but trolling in the evening is best, as the trout follow the emerging bugs towards the surface. One of our guests has been into some better sized trout casting a spinner into the weed edges, or large openings in the weed beds.
It's a great time to be out on Tunkwa fishing!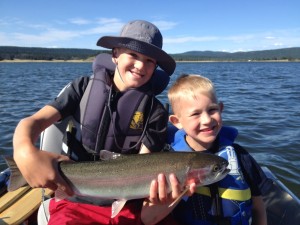 Caleb and Levi, fishing with Dad, showing a beauty out of Tunkwa this past week. They had some great success fishing chironomids!.