We've had some warm weather up here at Tunkwa, nothing like the temps they are having in the cities down in the valleys! Our night time temps have been really falling to very comfortable levels making some great evenings and nights for sleeping! In fact we've had a few days the past week, waking up to frost!
We are still allowed campfires up here, as no campfire bans have come into effect for our area.
The fishing has been spotty, with some days still pretty good, once the anglers get dialed into what the trout are feeding on. Other days, esp. mid day can be tough. Best fishing has been in the morning, or evenings, with peak activity the last hour or so of daylight. Caddis are still hatching in the eves, and the trout are dialed into them. Some chironomid hatches have been happening as well. A mix of patterns and sizes have been working better then others, all depending on the day, and hatch you are working through.
Emily with her first trout on the 'Fly', taking Dad fishing for Fathers day.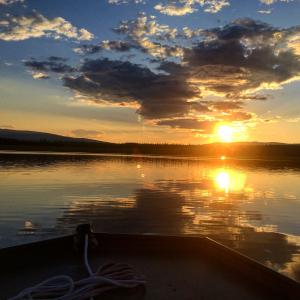 A beautiful sunset picture from this week, looking across Tunkwa. Thanks for sharing it with us Emily!
.