Some unstable weather since the last report, including waking up to the hills around Tunkwa covered in snow! A fair bit of rain in the area to, and the campfire ban was lifted on Friday! Weather has certainly improved, with warmer, sunny temps here now, and in the forecast for this week.
Mixed reports from guests fishing, some doing very well, while others not so well. It's a tough time to troll on Tunkwa, water levels are very low, and the active trout are in the shallows feeding now. The cold nights have them starting there fall feeding binges, and they are up shallow where all the aquatic food is to be found.
We hosted the North American Loche Style Tournament here on Tunkwa for part of the competition(moved and rotated to fish 3 other lakes as well), some of the competitors did very, very well, during there Tunkwa sessions. Good bunch of guys, and some good anglers from all over! This event was fundraisers for the Children's Hospital as well. We'll post up more details as we get them from the organizers.
Fishing the shallows seems to be the best ticket to get into fish, as shallow as 1′ of water! Green(living), sparse weeds, or healthy weed lines are producing. Casting various attractor patterns, and fishing them fairly aggressively, will get you hooked up. More natural fly patterns, mimicking boatmen, dragon fly nymphs, mayfly nymphs, scuds or micro-leaches will also work fished in the same areas. Often fishing flies faster, more aggressively, will trigger reaction strikes out of the schooled up trout.
This time of the year, non fly fishing anglers can have great success fishing spinners (ie:Blue Fox's) in the same shallow areas. Varying the retrieve, and allowing them to flutter down into the weed opening, should bring good results.
Worms under a float will get you into fish as well, this time of the year, there's even bank fishing opportunities to be had now.
It's a great time of the year to be out enjoying fishing on Tunkwa!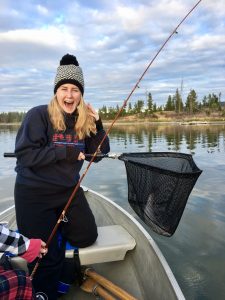 Kristen sure looks excited landing the first fish of her trip last weekend, good job!.