Some snow now in the area.
The mule deer rut has slowed down, but the Whitetails are going strong, from sitings of bucks mid-day.
Since our last report we have had harvested:
2 – 4X4 Mule Bucks
1 – WhiteTail Buck
1 – Mule Doe (LEH)

Al harvested this nice Tunkwa mulie this week, a broken toe has been keeping him away from the WhiteTails, but didn't slow him down on a mulie hunt.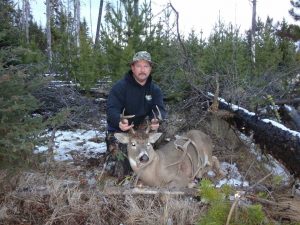 'Hump' rattled-in this nice Tunkwa whitetail buck this past week, a 10 minute hunt for him!.