Fishing remained very good on Tunkwa even with some wet and stormy weather. Many regular guests commented that fishing was the best they have ever seen on Tunkwa. It was a busy weekend on most of the local lakes, and good reports coming in from all over.
Trolling or wind drifting was proving to be effective for guests that employed this tactic. The good old half/half Sun flasher, with a Frog patterned Hot Shot 24″ behind it was deadly for many. The Blue Maroon and Vampire leach pattern were both hot flies this weekend. Casting and working 'half back' or mayfly nymphs proved effective, in the later afternoons and evenings, as the mayflies have started to hatch in good numbers. Chironomid hatches were good, and the birds were all over the water feeding on them all weekend. Usual patterns all caught trout. Whisky Dicks in size 12(scud) have been hot, Barnes lake Specials, ASB(anti static bag) ties have been producing, as has our Moon Light pattern. Hearing of lots of trout to about 3 lbs, with the occasional much bigger one getting hooked, often breaking off the unsuspecting angler. These Pennaske strained rainbows are incredible fighters, and everyone has smiles on their faces coming off the water.
Fishing continues to be nothing short of fantastic!

Tyler out with Grand dad, learning to fly fish on Tunkwa.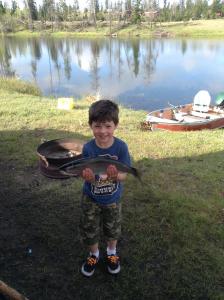 Pheonix and Dad with a nice trout for supper.

Arnold and crew had some great success on their holiday here, lots of trout coming to the net on chironomids..