With more than 110 species registered in the area, Tunkwa Lake is one of the birding hotspots of British Columbia. Loons, red-necked grebes, mountain bluebirds, killdeers, pileated woodpeckers nest within the facilities of Tunkwa Lake Resort.
A simple walk around the diverse trails in the area is very likely to provide excellent viewing and photographing of American eagles, osprey, redtailed hawk, western-screech owl, red-napped sapsucker, black tern and many others others.
There is also a few secret spots around the area where the awesome Great Gray Owl nest! Please see our photo gallery for recent pictures of the Great Gray Owls that nest in the area. There have also been recent reports of a Northern Hawk-owl nesting nearby although we have yet to confirm.
To see full list of reported birds on the ebird.org website, please click here and a new page will open.
Birders also enjoy seeing the diverse wildlife around the lodge: deers, coyotes, marmots and chipmunks the most common, while black bears, wolves, wild horses and even cougars can be seen with a bit more luck !
To see some of the photos in our Photo Album that were taken around the lodge, please go here
Here is a Birding Map of Tunkwa Lake Resort.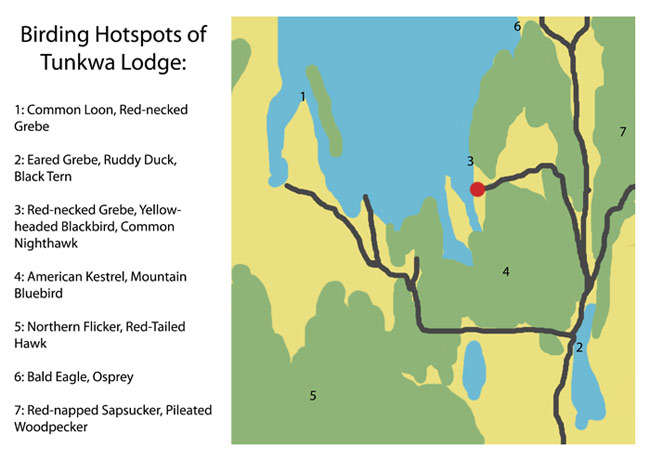 .