We hope everyone has been doing well through these unsettled times. Thanks to all for dropping notes of support and care, they are very much appreciated by all of us.
I received a phone call late last night from the supervisor of the crews out at Tunkwa. He wanted us to know first hand what was going on out at Tunkwa. Information on these fires has been sparse. He and his crew appreciated all the resort had done to help and support them while out there, it helped them to stay close and protect properties around the lakes. He was very genuine and at times teary sounding talking about it, they had worked a 48 hour shift during the fire attack, protecting the Tunkwa community.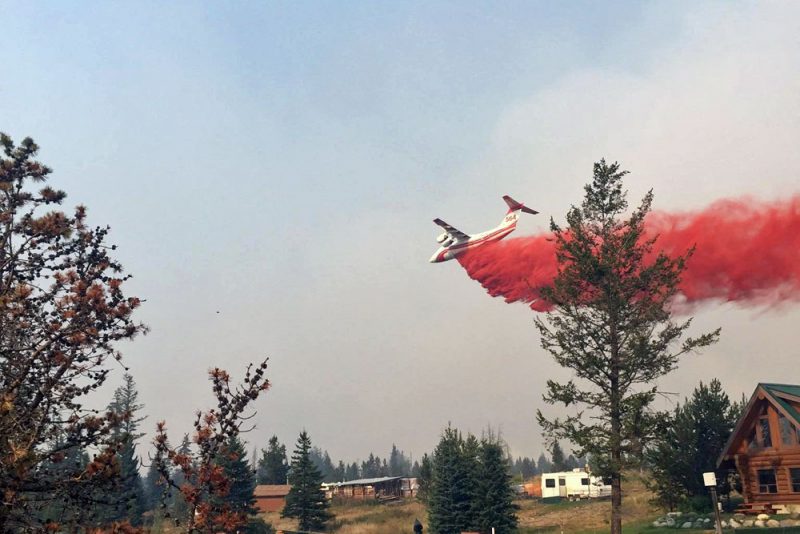 The fire was intense, it was a class 6, the worst kind. It came in from the south, where the private cabins are. They borrowed our boats, quads and a side by side to access them. From there, it went towards the resort on the south end, where they confronted it head on and held it back from the site. At almost the same time an intense fire came in from the North end, Cabin 7A area. This area was drenched with over 50,000 gallons of water to stop the fire there. The large Siskorky helicopter was used, dropping lake water as needed. He said this fire was really bad, and normally they would have backed off, but they went above and beyond to save things. The protection measures put in place held and worked. They did the very best they could and we are so grateful, and thankful for all their extra efforts protecting things.
The power is still out as many of the hydro poles on Tunkwa lake Road were burned down, with the dead wires are all over the roads. We still do not know when we can get back into the resort to survey things, so please bear with us until then.
We expect things are going to look different there, parts of the landscape in the area will change, as the fire engulfed a lot of the area. We suspect we will have work ahead of us doing clean up and repairs.
We are still evacuated from Logan Lake, but things are looking good in town, and we should be able to get back there soon.
We will update everyone as we find out more, thanks again for your continued support. We are all looking forward to being able to get back to the lake!