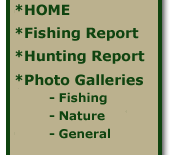 ---
Activities/Ice Fishing :
Changes in the fishing regulations, going into effect April1/09, will have both Tunkwa Lake and neighboring Leighton Lake, open for fishing year round. Tunkwa regulations enable all legal forms of fishing including fly fishing, bait fishing, artificial lures and now ice fishing.
See our rates for Ice Fishing Huts and Gear here.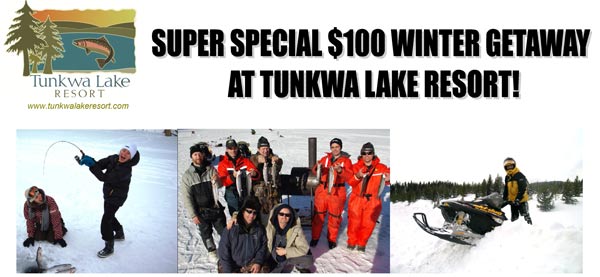 WINTER IS AN EXTRAORDINARY TIME AT TUNKWA LAKE,
COME AND ENJOY THE GREAT OUTDOORS WITH US!
It has been many years since Tunkwa Lake has been open for ice fishing and we want you to experience it first hand. Check out this special offer for just $100 per person for two nights!
Accommodations in our Lakefront Rustic Cabins (groups of 2 to 6 people)
Inquire about upgrades to our Luxury Log Cabins (groups of 7 or more)
Complimentary 4 bundles of firewood for cabin wood stove (per group)
Complimentary use of a FireBarrel to keep toasty warm on the lake and as an incredible on-the-lake BBQ (per group)
Complimentary 2 bundles of firewood for Firebarrel (per group)
Complimentary use of ice fishing rod and reel (per person)
Complimentary dozen worms (per group)
Complimentary use of a hand auger (per group)
Complimentary morning cup of Premium Van Hotte coffee (per person)
Plus friendly and knowledgeable staff that will provide advice on where to fish for those rainbows up to 11 pounds!!

Rates are based on availability and do not apply to existing reservations.

Additional conditions may apply, call the resort for details.
Click here to download the flyer for printing or dropping a christmas list hint.