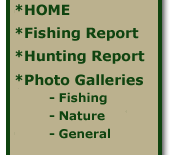 April 13/15

A windy stormy weekend up here, with the Coq. highway getting pounded wtih snow, made fgettign here, and ishing for the die-hards only! Setting up out of the wind was the trick, and guests did get into trout. Chironomids and micro leaches were the ticket. One of our guests got into fish slow trolling leaches over the deeper parts of the lake, targeting suspended fish. Worms under a float brought some good action as well.
A guest brought in a trout just over 5 lbs, along with a couple of 4lbers, some of the bigger trout we've seen caught so far this season.


Apr.9/15

Some incredible fishing on Tunkwa this week, the sun sure warmed the water up, and brought on some good hatches. Water surface temp hit 50F in some spots! Follow the feeding swallows and find the hatches. then catch the trout fedding on them. Dark coloured chironomids, with silver or red or holographic ribs, in size 12 were hot. Fished about 1' of the bottom in less then 6' of water, brought steady action. Again fishing is better then the afternoon.

Not sure what the forecast cold front will do this weekend, but so far the season has got off to a fantastic start!

One of many double headers!

Pennaske strain Diploids doing well.

Just Nice getting out, when Tunkwa would normally be still well iced over!

Apr.7/15

Mixed reports coming in from guests fishing Tunkwa this weekend, but some did well, once they got on actively feeding trout. Lots of smaller chironomids hatching, filling the air at times. Water temps start at around 40F and are rising to about 44F in the afternoon. Best fishing is in the afternoon, when it does warm up. Trout are being caught very shallow.Smaller black/silver or black/red chironomids have been good producers. Micro leaches in maroon, black or olive green, have also been working. One angler was having good success with a smaller mayfly nymph. Trollers using smaller Kwikfish, HotShots are having success, but fly fishing the shallows is a better option.Talked to one troller who did well with a dark coloured #6 LuckyBug lure.
Fish on the cleaning table, have lots of small scuds(freshwater shrimp) in them, but we are also seeing leaches, chironomids, and daphnia, in the mix.
Water clarity on Tunkwa is mixed, some areas very clear, but some spots hammered by waves or influenced by run off from our creeks, have lower visibility. Leighton had very poor vis on the weekend, most likely going through turn over.


March 29/15

A windy weekend up at Tunkwa, but still warm.
Lake levels are slowly rising, but water clarity remained good. Water temps in the upper 40's.
Few guests out fishing were able to tuck themselves into some protected bays to get out of the wind, and fished shallow against the shorelines. Maroon Micro Leaches or size 16 Black/red chironomids were the best producers for the fly anglers,and trollers picked up some fish on slow trolled kwikfish. Fishing pressure was quiet light.
Great to be able to get a record early start on the open water fish!!


Mar. 25, 15

Tunkwa Lake is 100 % ice free as of noon today!!!

Some fishers on the weekend got into a few fish, one was 3 1/2 caught. Small micro leeches produced fish and a fellow managed one on a #12 chironomid although 16's and 18's were coming off in the shallower parts of the lake. Leighton is 40-50% off as of yesterday.